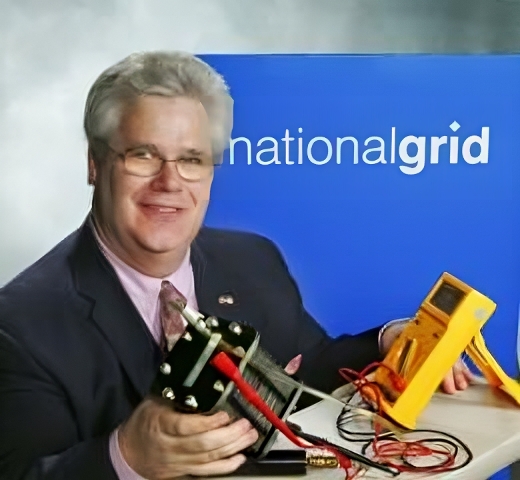 Christopher Cavanagh / Principal Engineer in National Grid's Future of Heat Engineering Team
In a world where power grids are regional, wind industries are national and interconnectivity rules, energy innovation knows no borders.
Exhibit A: Clean Energy Business Incubator Program Advisory Board member Christopher Cavanagh, a National Grid engineering manager who's spent decades modernizing power systems across the Northeast – and provides key insights to CEBIP companies from somewhere in the swamps of Jersey.
Not exactly … though Cavanagh, who joined the CEBIP board in 2017, grew up in Brooklyn but does live and supports local government in the community in the birthplace of Sinatra, Springsteen and Bon Jovi.
New Jersey, of course, is also where quasi-famous tinkerer Thomas Edison did his best work. And while Cavanagh doesn't pretend to be a modern-day Edison, both innovators did attend the Cooper Union in New York City – and the lessons they learned there have undeniably affected millions.
Edison took a chemistry course at the Cooper Union, to help him build a better telegraph. Cavanagh, a graduate of Brooklyn Tech High School, earned a bachelor's of engineering degree there, before adding a master's of science from Polytechnic University, now NYU Tandon, and an MBA from Dowling College on Long Island.
While working for one of the major power engineering firms in NY, he's applied all that knowledge through decades of research and development work for the companies that are now part of UK-based National Grid, a global energy company, including fruitful partnerships with scientists at Stony Brook University's Advanced Energy Research and Technology Center, especially the new Institute for Gas Innovation and Technology (IGIT).
These days, he's focused primarily on designing and implementing next-level demonstrations involving hydrogen technologies – ideas he's come across often in his associations with CEBIP and the AERTC.
"Stony Brook has quite extensive expertise in these areas," Cavanagh notes. "What's impressed me most is the maturity in some of the ideas – you hear it's college kids and you think it's going to be pie-in-the-sky and not really fleshed out, but that's not the case.
"These researchers and ideas need guidance and resources," he adds. "But they're very innovative and a lot of the ideas are very thought-out. And most importantly, they're not constrained by some of the thinking older legacy companies have."
At CEBIP, those rough-around-the-edges creators are encouraged to follow their sometimes fantastical ideas, but within well-structured parameters promoting efficiency, proper commercialization and good business – exactly the kind of guidance laboratory and engineering types often need most, according to Cavanagh, who praises the way Executive Director Heidi Anderson and Portfolio Manager Shruti Sharma "challenge and encourage companies."
"It's a superb program," he says. "They're lean, and the amount of information and materials and potential that flows through here is just amazing.
"And the Advisory Board representation is great also – you've got people from business, academics, people who work for utilities, people who work for the government, the whole package," Cavanagh adds. "You don't have to send these companies to another meeting and another to teach them what they need to know."
While he attended Advisory Board meetings remotely during the pandemic, the advisor says he puts a premium on attending in person whenever he can.
"Sometimes, on the phone or video, it's hard to determine when you should interject and what you should interject," he notes. "It's not bad, but for something like this, when you're trying to create an environment, the in-person meetings are much more effective."
When he's not arranging next-generation hydrogen-power National Grid demonstrations or shuttling to Long Island for a CEBIP function, Cavanagh shares his industry knowledge with even younger learners.
Among other things, he helped create a STEM program for New York City middle schoolers, coached teams of New Jersey students in the prestigious Odyssey of the Mind Competition and served as a judge in NYC-based FIRST Robotics competitions.
Working with all those clever kids is a lot like working with the big-thinking CEBIP companies, according to the coach.
"I would love to be a student today, because they have so many more creative opportunities," Cavanagh notes. "Academics today are really the starting point of entrepreneurism.
"The GEs and big companies of the world will always have a big role," he adds. "But the small, innovative startup company that's thinking out of the box – that's where the good ideas are coming from.
"Working with thinkers like that gives you good perspective. And it's always great fun."