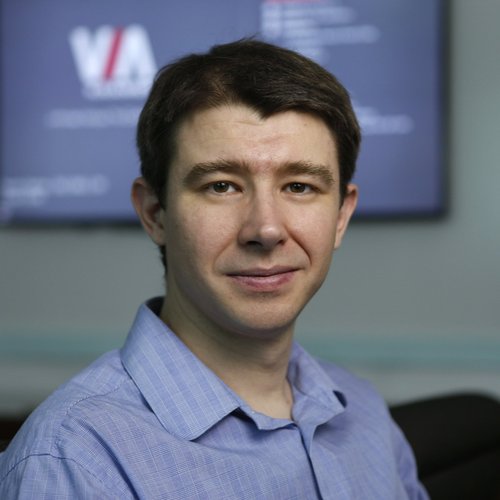 Nikolai Joukov / CEO, Modelizeit
modelizeIT, a 2012 startup launched by Russian emigree Nikolai Joukov, joins ThermoLift, Re-Nuble, Qunnect, Edgewise Energy and Bonded Energy Solutions as the only companies to complete the clean-energy incubator's commercialization gauntlet.
Notably, modelizeIT is a clean-energy company. Its cutting-edge tech focused on cloud migrations (that reduce IT energy consumption by up to 80%) is also used for datacenter security, IT costs reduction, dark-data discovery, and other key digital verticals.
That made his early-stage enterprise a natural fit for the CEBIP system, according to Joukov, who knew he had the technological goods all the way back in 2016 but needed to identify the right markets, among other business-building necessities.
"In 2016, the technology was already working," he says, and by the time he applied to join CEBIP in 2016, "we already had some very interesting clients."
"But given that it's an enterprise area, it takes years to build trust," Joukov adds. "At this point, we're in more of a working-factory operational mode. We are very closely aligned with several large IT companies."
modelizeIT's services essentially boil down to five basic types, starting with managing data migrations (between clouds, platforms, datacenters, etc.) and streamlining IT operations (including the application of new tech).
The company also specializes in dark-data discovery (tracking corporate data that exists but is managed improperly), datacenter cost reduction (limiting electricity consumption is huge) and security against external data threats.
One of the "large IT companies" calling in these services is about as large as they get: Amazon Web Services, which became a modelizeIT partner through some of the old-fashioned networking.
Joukov says he initially contacted AWS Chief Evangelist Jeff Barr via LinkedIn to explain what his startup did and how it might help the Amazon subsidiary, which provides on-demand personal, professional and government cloud-computing platforms and application-programming interfaces.
"I was reaching out to many different potential clients and partners, trying to connect with the right teams and build new partnerships," Joukov notes. "I connected with Jeff and he put us in touch with the right team.
"Now, at this point, there is a sizeable team of modelizeIT supporters and modelizeIT-certified consultants inside AWS."
The importance of proper networking is just one of the valuable lessons Joukov and his team gleaned from their CEBIP years. The company founder didn't single out a particular workshop or graduation requirement, but praised "just the fact that CEBIP exists."
"Just being there and interacting with other people who run startups," he says. "(Former Executive Director) David Hamilton was always very enthusiastic, (Executive Director) Heidi (Anderson) and (Portfolio Manager Dr.) Shruti (Sharma) are great, but at the end of the day, it doesn't matter as much what specific workshops they organize.
"The most important part is they exist, and they allow entrepreneurs to see they are not alone," Joukov adds. "You see what you are experiencing is normal – that's a tremendous support."
Of course, the incubator program's business-planning and commercialization courses don't hurt.
"CEBIP's entire leadership team is very supportive," Joukov notes. "Participating in an incubator makes your chances of not failing tremendously higher."
Upon graduation, modelizeIT will extend its longtime Long Island High Technology Incubator (LIHTI) residency.
"It's a very nice continuation," Joukov says. "Definitely a natural transition from CEBIP to LIHTI, which is better suited to companies in an advanced stage."
Advancing stages is also part of the ongoing plan: In IT environments of roughly 100 servers or more, documentation is always incomplete, personnel is always shifting, vital data is routinely lost in the shuffle and the need for an expert technology like modelizeIT – at companies big and small – is omnipresent.
Companies need our help," Joukov notes. "And there's always some specific person, somebody who gets fascinated by our technology and becomes a champion and supports us and makes the right introductions."
"We've grown a lot," he adds. "But it's these key people who have really propelled us to the next level, because they like our team and the technology and wanted to help. Thank you!